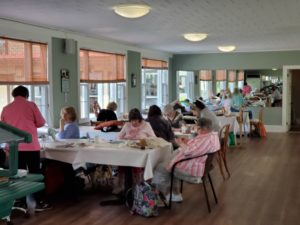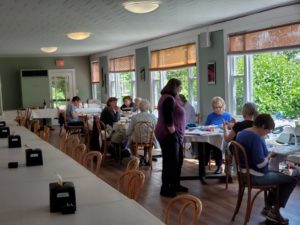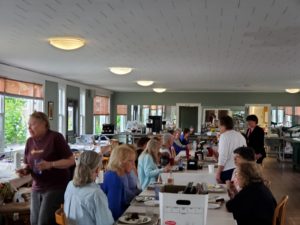 We had another successful retreat at Ararat September 8-10. There were 14 weekenders, with 18 members showing up on Friday; 23 on Saturday; and 14 on Sunday. We expect another fun retreat next spring, June 7-9, 2024, so mark your calendars!
For more information, please contact our Retreat Coordinator, Helen O'Connor.
*******************************************************************
Each year we plan a weekend retreat for our members at lovely Ararat, situated in Greenville, NY. This is always a wonderful weekend as it is such a treat to just sit and stitch and not worry about making beds, cooking, or cleaning. Our stitching room has incredible daylight, with huge windows on both sides of the very large room. We'll sit at our tables in one part of this space, and when the breakfast, lunch or dinner bell rings, we just get up and move to a different part of the room. The food is always extraordinary, and we are able to accommodate anyone with special dietary requests. The site itself is simply beautiful, with a view of the Catskill Mountains. It is a wonderful place to walk around and, depending on the weather, there is a tennis court and outdoor pool.  If you need a break in the evenings, the main residence has a large, central living room with a television and DVD player.
The weekend starts with dinner on Friday, and includes all meals through lunch on Sunday. Snacks will be served every evening. Coffee, tea, hot chocolate, juices and water are included and available throughout the day, often with fresh fruit. Breakfast and lunch are served on Sunday and the retreat will end at 3:00pm Sunday.