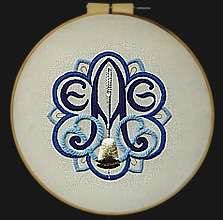 Chapter Membership
Membership in the New York Capital District Chapter (NYCDC) includes membership in the Embroiderers' Guild of America (EGA) with access to its online resources, quarterly magazine, seminars and correspondence courses. The NYCDC chapter is part of the Metropolitan Region of EGA.
Guests are welcome to attend one meeting before joining.
For more information, email Membership Chair Lynne Priestley.
To join, download the Membership Form and mail your completed coupon with a check for dues made payable to NYCDCEGA.
Membership Dues: Dues will vary depending on when you join and if you are already a member of another chapter inside or outside the Metropolitan Region. Your membership will be active through May 31st of the following year.
| JOIN BETWEEN:  | Jan 1 – Mar 31 | Apr 1 – June 30* | Jul 1 – Sept 30 | Oct 1 – Dec 31 |
| --- | --- | --- | --- | --- |
| Number of Quarters New Membership Will Cover  | 1 | 4 | 3 | 2 |
| New Member (Regular Member) | $15.00 | $60.00 | $45.00 | $30.00 |
| Current member of another chapter inside the Metropolitan Region (Plural Member) | $4.25 | $17.00 | $12.75 | $8.50 |
| Current member of another chapter outside the Metropolitan Region (Plural Member) | $5.25 | $21.00 | $15.75 | $10.50 |
* Through the following year