Ancestree GCC
Several of our chapter members recently participated in the EGA GCC Ancestree by Carolyn Standing Webb.  Ancestree is a study in blackwork techniques.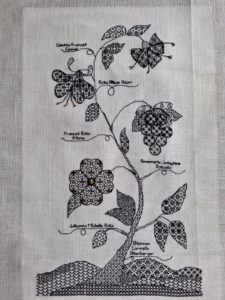 On the left is Fran Roscello's completed version of Ancestree.  On the right is Jenni Paperman's completed version of Ancestree.
Intuition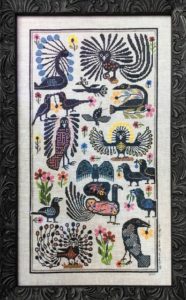 This is Intuition, a counted cross stitch design by Julia Line of Long Dog Samplers, stitched by Lynne Priestley.  Lynne stitched her version on 32 count Porcelain Lakeside Linen.  She used assorted silk threads – Needlepoint Inc, Gloriana, Dinky Dyes, and Soie D'Alger.
Valentine Biscornu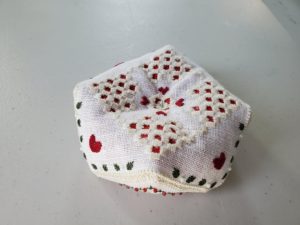 This is an EGA Petite Project – Valentine Biscornu.  It was stitched by Jenni Paperman.
Feline Friends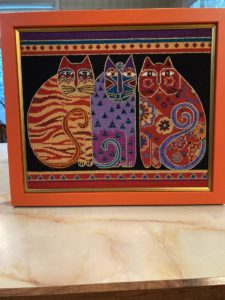 This is Feline Friends, designed by Laurel Burch.  It was stitched by Helen O'Connor on 14 count Mono canvas, using Persian wools and metallic threads. She couched the outside of the cats with gold Kreinik and gold silk couching thread in order to achieve the curves she wanted. Helen added specialty stitches, such as French Knots and Smyrna Cross stitch  to some of the small elements on the cats' bodies.
Bethlehem Library Display
Members of our chapter recently displayed some of their work at the Bethlehem Library.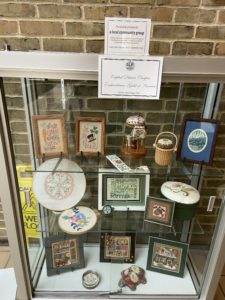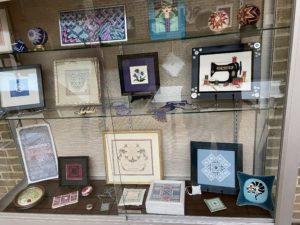 Seven Symmetries Sampler
Designed by Jennifer Paperman, Donna Logan, Mary Roylance, and Ginger Iorizzo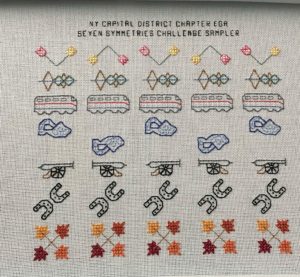 On April 17, 2021, Diane Herrmann gave a lecture to the EGA Metropolitan Region entitled
"Seven Symmetries: (Mathematics!) and Border Patterns." When designing a band or a border
of repeating motifs, there are only seven ways of changing the orientation of the motif, hence
the name of the lecture. At the end of her lecture, Diane shared her Snowman Symmetry
sampler consisting of seven motifs, one for each of the seven symmetries. Diane challenged the
attendees to design their own sampler, using motifs from their region or chapter. Diane
mentioned that although she has given the lecture many times, no one had ever met her
challenge. Members of the New York Capital District Chapter rose to the occasion and designed
a Seven Symmetries sampler. Ginger Iorizzo stitched their design.
Diane Herrmann was thrilled that an EGA chapter finally met the challenge! The New York
Capital District Chapter's sampler will be featured in future lectures she gives.